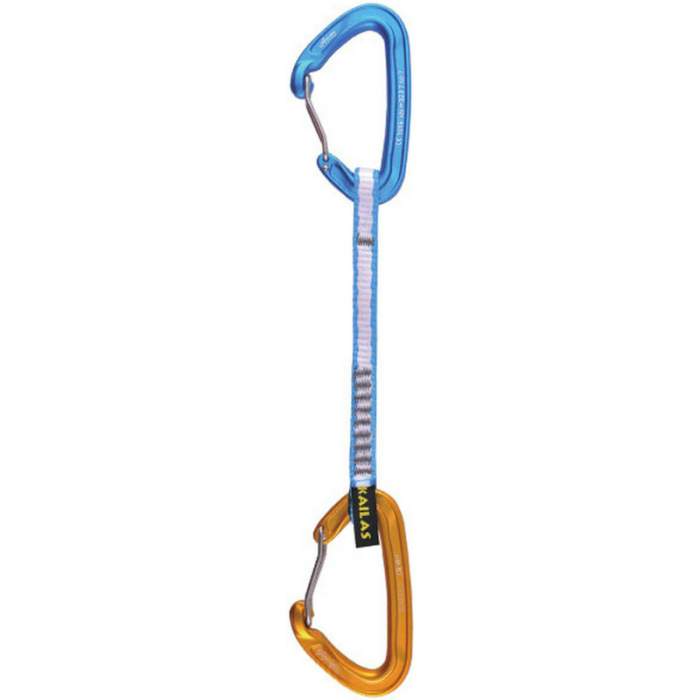 Description
Ultra series are favored by many extreme climbers, especially extreme and speed climbing that requires light pack ora lot ofcams and pitons and other gear. 
• Hot-forged from 7075 high-performance aluminum, ultra-light 3D design helps reduces unnecessary weight and bring out a lightweight quickdraw 
   that is flexible to use and strong. 
• Wire gate resists freezing in cold and snowy situations and it provides a wider gate opening than conventional gates 
• Specially-designed wide lock nose ensures the firmness of steel-fiber lock gate and accidental opening of lock gate due to scraping can be avoided. 
• Steel wire gate can considerably reduce external impact, preparing it for harsher environments 
• We choose 10mm Dyneema webbing with high intensity and low water absorption rate for our quickdraws. 
• The webbing is equipped with a rubber sleeve at one end of the prevent rotation. 
This Product is Hard to Find.
We don't know where you can buy this item online in the US. We'll continue to check all the major retailers and will update this page as soon as we find one.
If you know where to find this online in the US, let us know, and we'll add the link.
| | |
| --- | --- |
| Weight | 72 g |
| Dogbone Size | 18 cm long, 10 mm wide |
| Dogbone Material | Dyneema­ |
| Dogbone Strength (kN) | 22 kN |
| Top Carabiner | Ultra Wire - |
| Bottom Carabiner | Ultra Wire - |
If you know of a good product video that should be here, let us know, and we'll put it up.
If you're looking for gear videos in general, check out our Vimeo and YouTube channels to see the newest gear.